Universal Copy+Paste for TV News
Ready to have your mind blown? Here's how you can "copy" from the entire medium of television news and "paste" into your blog, Tumblr, Twitter feed or Facebook wall. With this technique, you can quote media the same way you quote text. You can be like Jon Stewart from the comfort of your bedroom.
1. Head over to the Internet Archive's TV News Archive, which is already the most impressive public interest technology project in recent history.
2. Opt into the preview version, which has some new experimental features. (There's a ribbon on the top right.)
3. Search the last 4 years of television news by transcript. The archive is current to the last 24 hours. You can search for any term. How about something timely, like something related to electronic surveillance?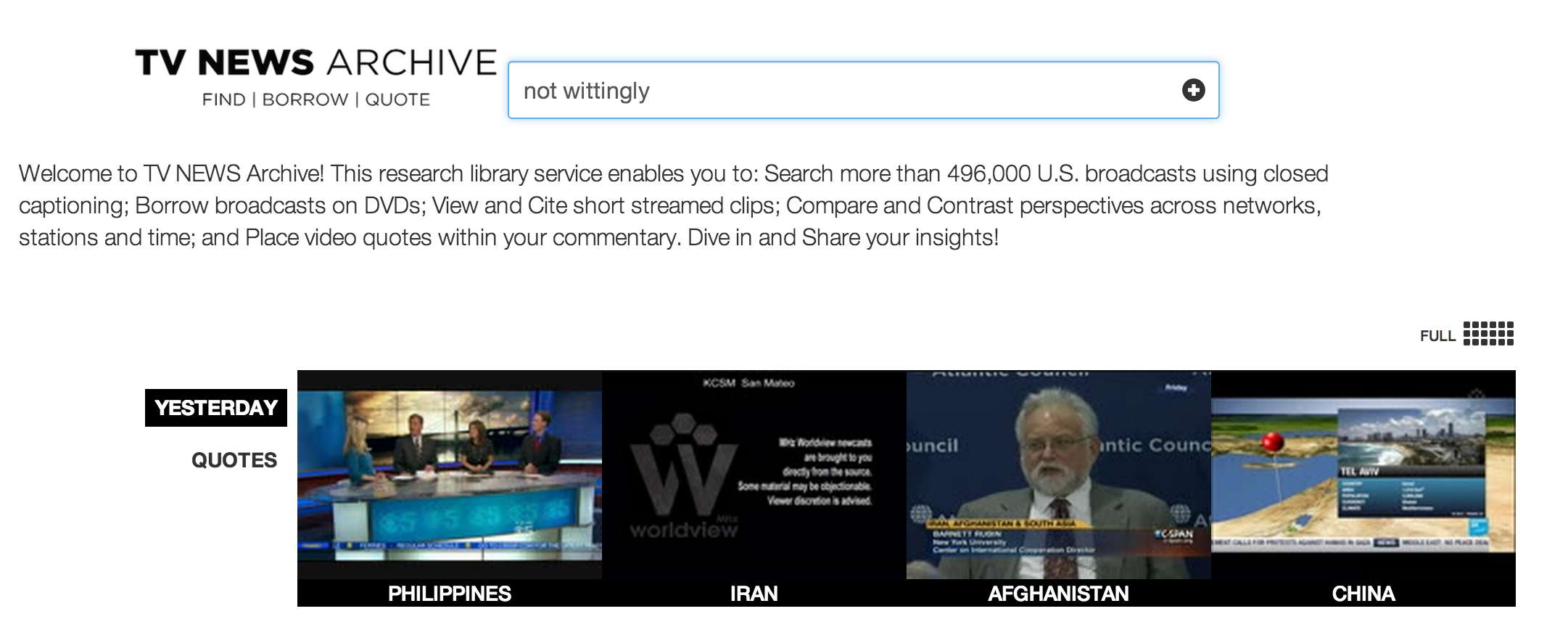 How about "not wittingly," the paradoxically least untruthful part of the untruthful Senate testimony by Director of National Intelligence James Clapper? This was made in March 2013, several months before Edward Snowden defected for Hong Kong.
SEN. RON WYDEN (D-Ore.): "I wanted to see is if you could give me a yes or no answer to the question, does the NSA collect any type of data at all on millions or hundreds of millions of Americans?"
DNI JAMES CLAPPER: "No, sir."
SEN. WYDEN: "It does not?"
DIN CLAPPER: "Not wittingly. There are cases where they could inadvertently perhaps collect, but not wittingly."
Search for "not wittingly." You'll be presented with TV news clips in which the speaker says "not wittingly." That will include the original clip and a lot of subsequent commentary throughout the news networks.
4. Find the one you want, and click the "quote" button in the top right.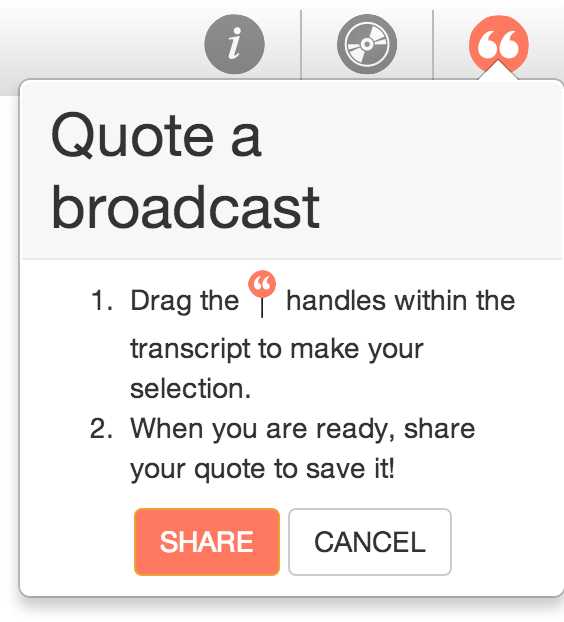 5. Now, use the handles to isolate the exact part of the transcript that you're interested in, and click "Share" again.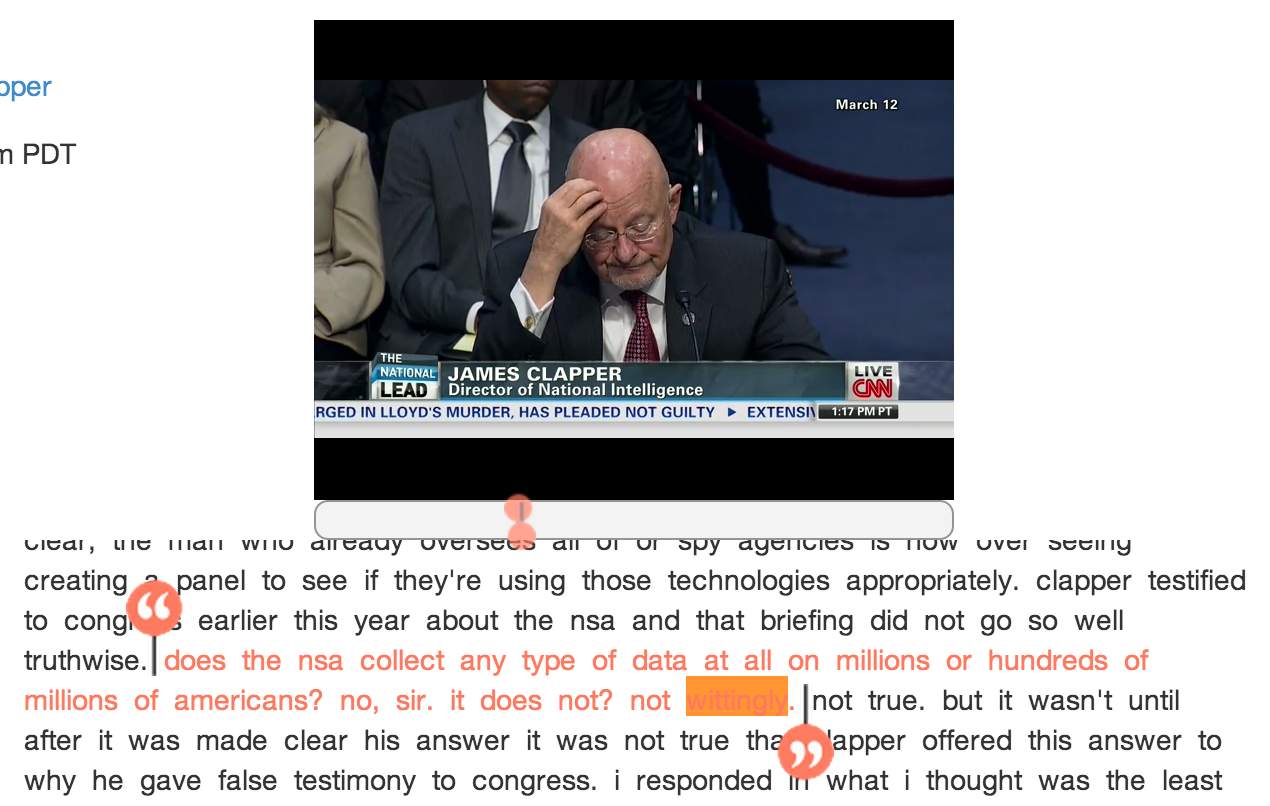 You have a range of options on how to share the clip. The most interesting share option is with Popcorn Maker, Mozilla's cloud based media editor. (I was part of the team that designed the software, but that's not why it's interesting!)
This clip will be added to a new video project inside of Popcorn Maker. Now you can add videos, audio, GIFs, titles, and any other media from across the web into your composition. Throw in you talking to a webcam from a clever script, and you can be Jon Stewart (though probably less funny).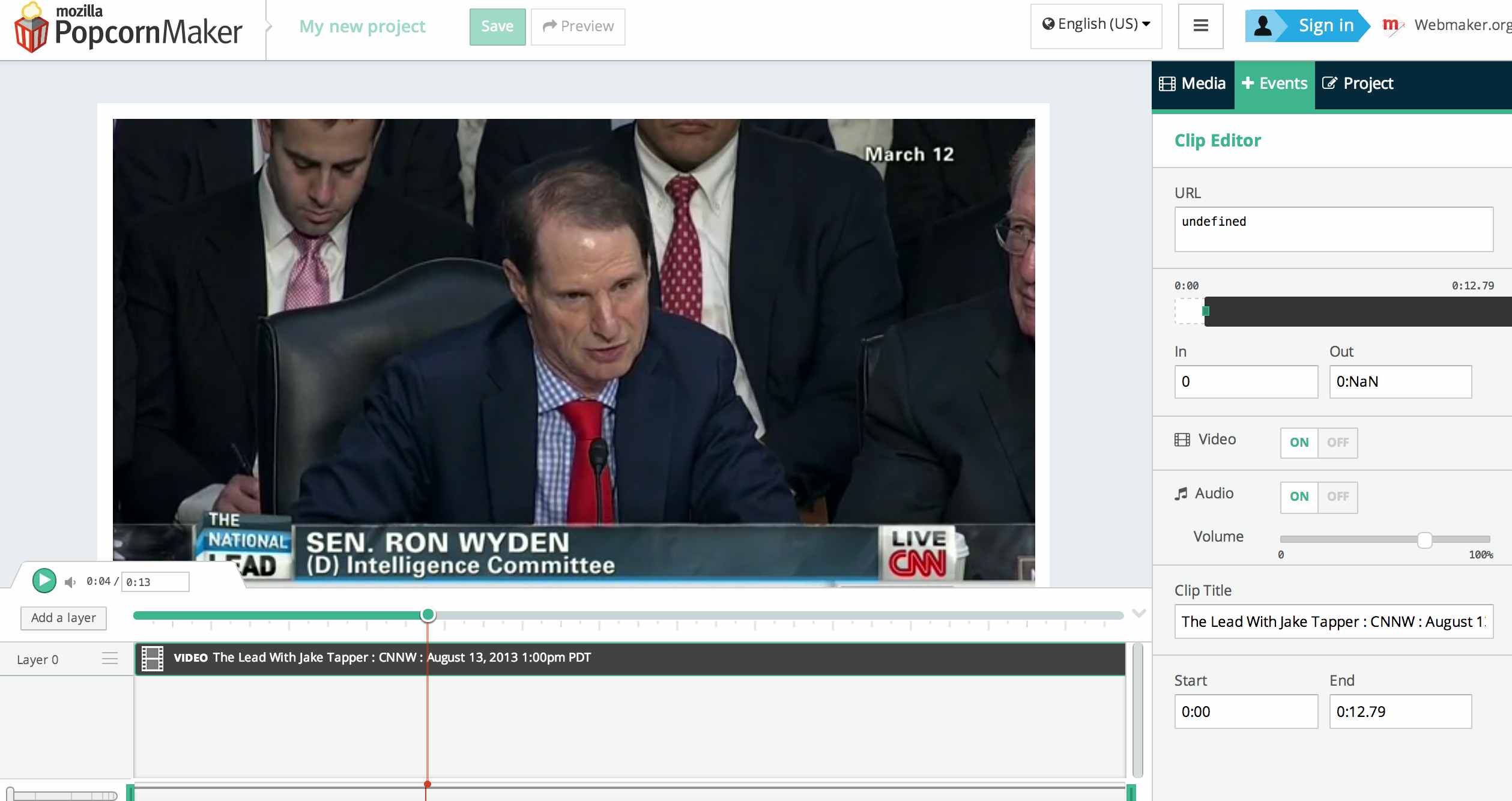 I took 20 minutes to create a template that demonstrates this in action. You can take and remix it using the tools described above: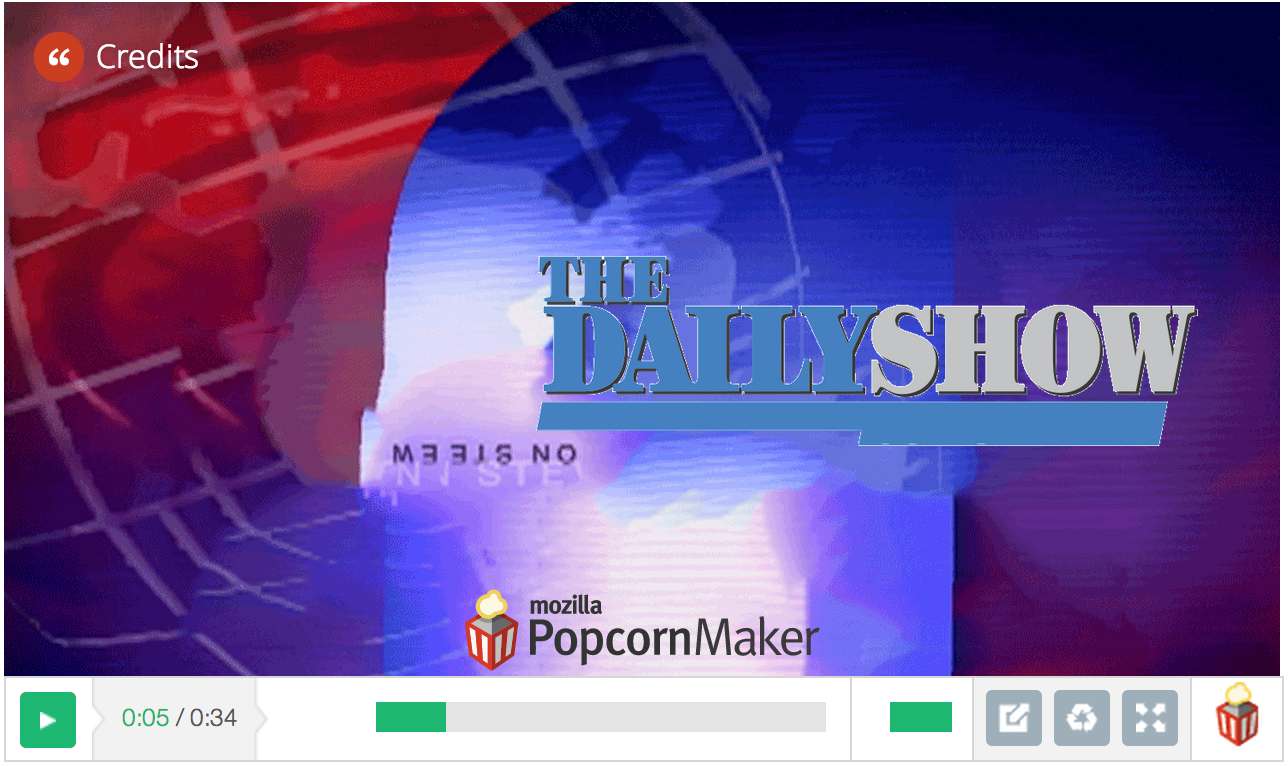 It's not that people can pretend to be Jon Stewart that's so exciting. Few people are as funny as Jon Stewart. It's that anyone with a web browser can have the same power as the Daily Show production team.  This brings the powerful but specialist medium of political remix video to everyone: now anyone can read and write the media. Media becomes just like hypertext. Anyone can "copy" from the visual memory and effortlessly "paste" into a video, entirely in the cloud. Anyone can quote, contrast, or re-contextualize news video to tell a story, critique power structures, deconstruct social myths or challenge dominate media messages. This could be a big media literacy moment.
This is the most interesting part of what the TV News Archive—together with audiovisual writing tools and open video tools like Popcorn Maker—represents. I've written about the transformative potential of the TV News Archive before, and also how Popcorn Maker can be most powerful in an age where video is the medium of record. This set of features, though still in testing, are a tangible realization of that vision for media literacy.
You can see Roger MacDonald, the head of the TV News Archive, and Tracey Jacquith, its lead programmer—both heroes of the open web and democracy—introducing TV News Archive quotability at the annual Archive get-together.  And you can see a Popcorn/TV News test project by Roger here.
Special props to Matthew Schranz for assisting Tracey to get proper clip attribution (and some other stuff) working in Popcorn Maker.
You should also check out the TV Archive's special collection about the NSA, electronic surveillance and Snowden. It's ripe fodder for doing rich media critique using the techniques described above. One quick note: because all these videos are encoded in h264, they don't work in Firefox just yet. That's another open video story, but it won't be the case forever.
The Internet Archive just suffered a fire in their scanner facility—if the TV News Archive inspires you even one bit, donate to the Internet Archive to help them get back on their feet.
---
About this entry
You're currently reading "Universal Copy+Paste for TV News," an entry on Ben's blog.
Published:

11.13.13 / 9pm
Category:
Tags:
Tweetstream